Having contrasting materials and finishes is a safe bet. But why don't we go bold this year? 2020 is the year of the monochrome but it's not as plain as what you might think!
What is Monochromatic?
A monochromatic aesthetic is a bold way to make a statement in any room. Though we usually stick with matching similar colors and keeping diverse palettes in our space, monochromatic color schemes look intentional and more striking. While we need to retain consistency through the space, it doesn't mean everything has to be overly matched. Find a color you love and take it from there, deciding whether you want to take it all the way or keep things subtle.
When we hear monochrome, we often think of grey and black and whites, and that's only a small part of the picture. The definition of monochrome is "one color" and therefore, using any single color within a space can be considered monochrome. Using a single bold color throughout the finishes can make the space feel larger but also creates a contemporary, memorable vibe and layers a message within the space.
Limiting yourself to a single color palette allows you shift your focus on textures and shades. It is a challenging yet very rewarding task.
Style variants
Striking White
Photo by Nick Johnson
White may seem like the easiest option when it comes to committing to a color (or lack thereof), but according to designer Alyssa Kapito—whose New York firm was responsible for the design of the Madison Avenue kitchen below—it often presents more challenges. "When you remove all color from a space, texture, tone, and lines become so much more important," she says. To add personality to a simplified palette, Kapito zeroed in on the room's smaller details, right down to the reflection of light on its polished nickel hardware.
Subtle Sprinkle
Coverted Loft by Chan & Eayrs
This converted loft space in the heart of Shoreditch, east London, is an elegant three-bedroom apartment brought to life by young British architects Zoe Chan Eayrs and Merlin Eayrs of Chan & Eayrs. Measuring approximately 270 square metres internally, the space is an exemplary exercise in light, craftsmanship and tactile materials. Occupying the entire third floor of a former shoe factory, the light-filled open space reflects its history, with simplicity and craft coming together to create an oasis from the urban jungle below.
Daring Black
Home in Black Serenity by Atelierii + Just Make Design
Employing a single color in a residential design scheme is a daring decision. When this particular color is black, then the outcome may range from shocking to shockingly elegant. This is the case with the rooms belonging to project "Home in Black Serenity", recently completed by Taiwanese firms Atelierii + Just Make Design in Taipei.
Cobalt Blue 
Blue Room by Douglas Friedman
"Monochromatic does not have to be pale. Colors like Cobalt Blue, Kelly Green, or even Aubergine can evoke monochromatic in a daring way, that's full of personality and elegance." — Jonathan Rachman of Decorist
Minty Entry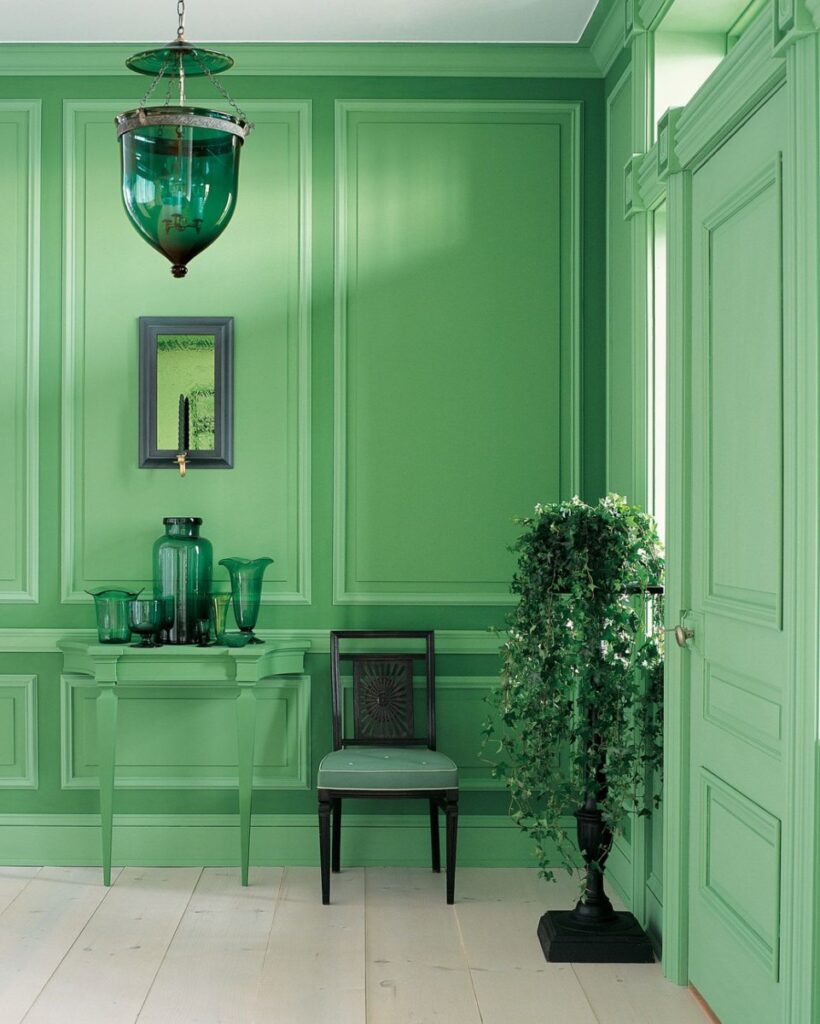 A bold yet soothing entry. Overwhelming green shades feel like a warm welcome of the owner. It'd better if they can maintain actual plants here but we won't judge if they use artificial decor. Overall, the room seems larger and has very soft transition between elements.
Total Teal
Teal Room by  Twig Hutchinson
This teal look is not for the timid. Designer Twig Hutchinson paired nearly-perfect teal chairs with a deep teal wall to create an optical illusion that helps the room feel even larger. The chairs almost blend in with the space and give it a luxurious feel.