Introduction
Draenert is a creative designer and manufacturer of furniture. Their products consists of: chairs, benches, dining tables, coffee and side tables of natural stone, wood, glass and metal, in part with patented extension mechanism. The delicacy of their products together with more than 50 years of experience make them a trusted furniture provider for 50 countries worldwide.
Notably, Draenrert's large stone-park where 180 kinds of stones from all over the world are permanently available can be considered a display of their expertise in crafting natural stones. They also provide a wide range of wood.
Renowned projects have already been carried out with Draenert furniture in the public, office and hospitality sector. In our modern workshops, master stonemasons, carpenters, varnishers, locksmiths and upholsterers manufacture dining tables, side tables, chairs, counters and single pieces of natural stone, glass, word, metal and leather.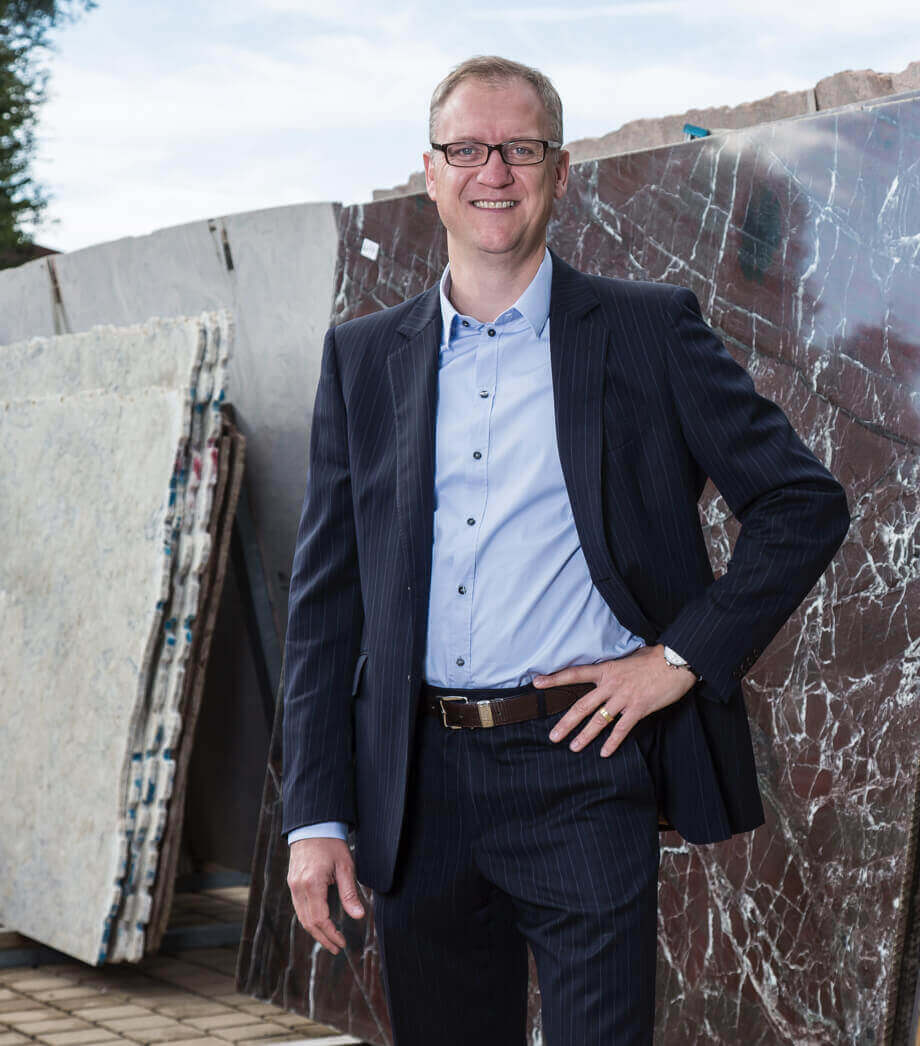 Born in 1969, doctor of Business Management, directing the company in the second generation.
Draenert's uniqueness
What makes Draenert products unique is their material. Natural stone is an element that express uniqueness like no other. There's not a single repetitive pattern on them.
Also, research, creativity and the human factor are essential in the process of creating new projects/products.
Featured products
Addler dining table
An extensible dining table, boat-shaped, rectangular, organic or oval, made of natural stone with lifting mechanism for an integrated center-leaf made of natural stone. The integrated lifting mechanism allows the interior central leaf to be raised once the two halves of the table top have been pulled apart. An ingenious technique makes the extension a procedure of miraculous ease.
Draenert dining desk
It is an extendable dining table from natural stone. The table can be extended along its longitudinal axis by a quiet, variable displacement motor. In its inside, it presents a multiple function area with stainless steel plates, cutlery box or cutting board, which can be arranged in many ways. Trolleys can be pushed in at the front ends.
Fontana
A new generation of extendable dining tables. FONTANA combines the uniqueness of natural stone with the experience of an innovative synchronous mechanism. Unfold the table to a banquet – effortless and apparently magical. DRAENERT typical – the expressive, trapezoidal table top adds the finishing touch. The FONTANA has received four awards! The collection is complimented by a fix top version.
QBIC
Pure symmetry – comfortably designed. The QBIC combines fine craftsmanship with a timeless design. It appears like a solid stone sculpture. The edges of this cube are perfectly crafted – box frame construction mitered, glued, sanded and brushed with a feathered finish.
Manolo
An ensemble consisting of coffee and side tables, which implements a very aesthetic vision: the use of natural stone as a core design element for the living areas. The stone table top appears vaguely because of the flowing soft edge. This creates a very gentle silhouette.
Photo credit: Draenert